"
M
e
r
r
y
F
@
#
$
i
n
g
C
h
r
i
s
t
m
a
s
"
Christmas Horror Anthology
"Merry F@#$ing Christmas" Christmas Horror Anthology will be four segments featuring four really awesome and gruesome tales for the most wonderful time of the year!!
"The Lady Bruins Christmas Slumber Party"
"The Lady Bruins Christmas Slumber Party" Plot: 5 young women who get together every year around Christmas time for a white elephant gift exchange. But this year all of the ladies receive the same gift...Terror!!
MEET THE LADY BRUINS PART TWO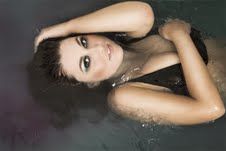 Tonight I interviewed Cori Collins; she will star in the upcoming Christmas Horror Anthology "Merry F@#$ing Christmas". She plays the character of Rita; Rita is the mother hen type and she tries to get along with everyone. She will be the host of the party. During the interview Cori and I discussed her film career and what she wants to do moving forward; Cori has done a lot of modeling work so far and I checked it out; I recommend others do as well. Cori said she really enjoyed working with Eric Williford, the director/writer of the Lady Bruins segment. She also says she would love to do another horror movie; however she would like to branch out and do other things and explore the possibilities of being an actress. Cori says she prefers to do more drama, I personally think this is great that Cori wants to explore more of her options but I do hope to continue seeing her in horror films because I am already a fan of hers after about 30 minutes of talking. I am sure whatever she does it will be great! I encourage everyone to follow Cori and support her as she works hard entering the world of film.
I do have a secret about the movie but I can't share it with anyone so I guess it sucks to be you guys!
As much as she said she appreciated what I was doing; I want her to know and you all to know that I appreciate her for taking the time out to speak to me!